Hey Lovelies,
we all know our world is drowning in waste. Tons and tons of plastic swim in our oceans and will last forever. Even if we try and use no more plastic from now on – which is almost impossible nowadays – there is still so much all over Mother Earth that there has to be another approach.
Another problem our world has is poverty and the growing gap between rich and poor. There might be no other place where this is as obvious as here in Cape Town. I read the other day that all billionaires in this world made enough money in 2017 to end poverty in the world seven times. I have absolutely no proof of this comment and it might just be made up but what if it's only half true?
One way to try and stall this ever growing gap is education – educating the young generations and creating opportunity through knowledge.
We have a few big problems in our modern world and these two are definitely in the Top5. But what should we do?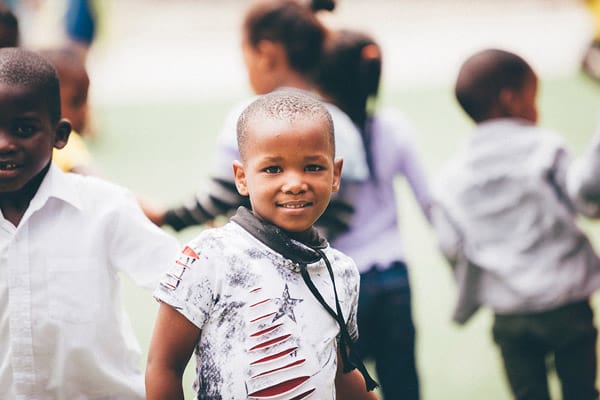 How about I tell you there is an organization that found an approach to incorporate a solution for both problems?
They're called EcoBrickExchange.
This project is pure genius and needs your support. So what do they do? They use unrecycable waste and build preschools with it. But not just that: they educate the people living in the community through workshops how to make EcoBricks, how to build with them and how to reduce waist around their home.
"The EcoBrick Exchange (EBE) is an environment awareness enterprise that facilitates the construction of preschools in underprivileged communities using unrecyclable plastic waste.
We do this by using low cost EcoBricks – plastic waste compressed into PET-bottles – a highly insulating building material that is water-, fire- and even bullet-proof.
Our programs empower individuals to address the shortage of quality education facilities, implement sustainable waste management systems and raise environmental awareness."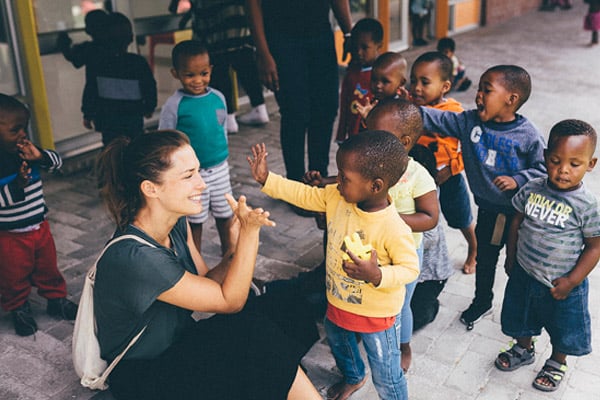 An old friend of mine who knew through social media that I was in Cape Town asked me if I wanted to support and see this project while I'm here.
Of course I was instantly hooked. This was something I promised myself: if I came back to Cape Town to somehow contribute and not just the great restaurants and yoga studios.
Last week I had the absolute pleasure to go and visit the preschool EBE helped build in the Township Delft close to Cape Town with one of the architects, Ian Dommisse and his wife Ilze. It just opened up a few weeks prior when school started and has over 200 kids from the ages 0-6 years learning and playing there.For the photographic support my friend Susanne joined us. So we drove to Delft and were right away welcomed with open arms by the wonderful principal of the early childhood development center Charmaine Hannie. She told us with so much pride about how much fun the kids were having, the long waiting list of over 300 kids, also the administrative challenges she was meeting, and all the great work that had lead to this preschool.
She also told us about the problems like parents not understanding why they had to pay for preschool or give the kids snacks from home if they already paid every month. This might sounds heartless but before judging, consider that life in a Township is unbelievable difficult.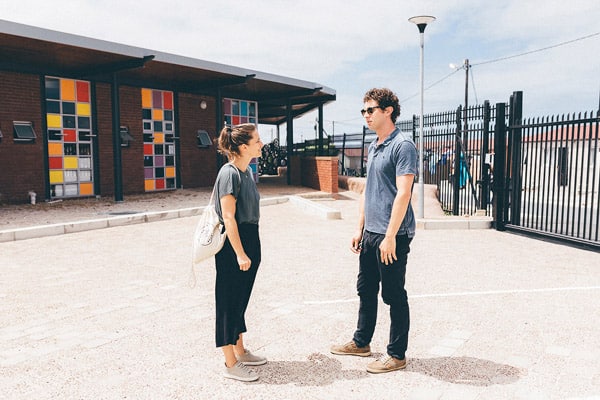 I'm definitely not an expert when it comes to South African history, the repercussions of Apartheid or the life and mentality in Townships.
It is a difficult field because I don't want to downplay the awful circumstances the kids grow up in but also don't want to make the people living in a Township like Delft seem like all victims or criminals. They've been dealt a difficult hand and growing up in a violent surrounding, faced with discrimination and with almost no perspective is a challenge I can't even imagine. So it's hard to understand what's going on in their homes.
Delft was built in 1989 and is known for it's very high crime rate, substandard schools and lack of jobs.
So building a new pre school with low material costs, funding and governmental support is making a huge impact on the generations to come. This is exactly where the change has to happen – the future generations.
Charmaine showed us around the colourful building, explaining with Ian what different materials were used and how the whole project unfolded with the help of the community. Walking from class room to classroom we met two women who told us that they didn't just help to build the school as construction workers from the ground up but now are assistant teachers for the 0-3 year olds. The kids were very curious and when one of them came up to me and demanded a fist bump, all of them came with big smiles and these innocent brown eyes.The whole topic of helping third world countries like South Africa can get controversial but when I'm standing on the artificial grass, watching the kids running around, playing and laughing, I know there is absolutely no question: These kids deserve chances they probably won't get without help from outside.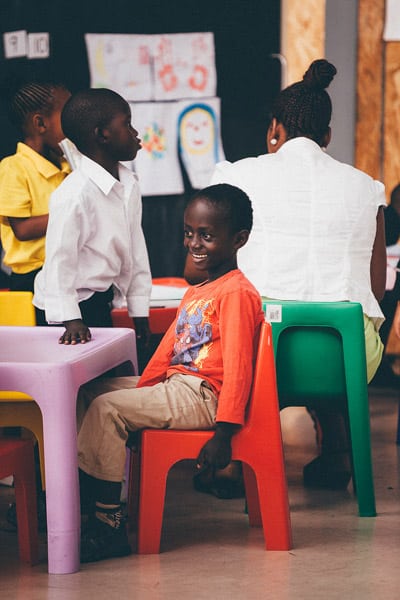 We can't keep pretending we can't do anything about that and keep obsessing about if I get my handstand or if I have the newest yoga pants.
Yes I'm definitely aware that this is me sometimes and might be what's luckily going on in my life but it's completely unimportant. We have the privilege and power to change things in this world. Every single on of us. Ever piece of plastic avoided counts, ever child having a better life deserves it and every idea to make the world a better place is worth pursuing.

Such a vision is definitely worth every support.
EBE needs funding for their new project in Port Elizabeth the Penguins Preschool so let's stay home next Saturday, not buy the new yoga pants or eat pasta with pesto and donate!
Thank you for your support,
Sinah
All photos by Susanne Schramke